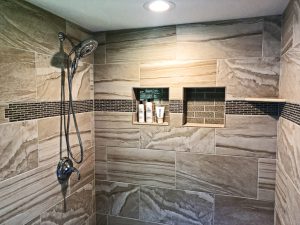 Horsch & Miller is here to assist you in your remodeling venture. From the smallest to the biggest of kitchen & bath remodels, we can oversee and coordinate all the necessary sub-contractors so that you don't need to worry about the
different phases of the project. We will keep the project moving and inform you of the progress so that you won't be inconvenienced any longer than necessary. We also understand that remodeling can be a messy ordeal; we will strive to keep the area as clean as possible throughout the entire project.
Horsch & Miller offers handicap accessible bathroom remodeling, with anything from grab bars to walk-in tubs and showers. We have the solutions to your accessibility needs with modifications that will enhance and improve the safety and comfort in your home.
Our commitment
Horsch & Miller Inc., is committed to providing our customers with top quality products, installations and service. Our commitment extends to providing employees with apprenticeship programs and continuing education classes. We provide our customers with the most complete, efficient job: excellent workmanship and warranty, followed by spotless clean-up, from the most experienced, knowledgeable, and fully-trained team of professional technicians in the area.
Horsch & Miller Plumbing & Heating Services Slinger, West Bend, Hartford Wi,  Jackson, Cedarburg, Brookfield and Surrounding areas!